Board of Directors
Our Board of Directors is the governing body of the Napa County Bicycle Coalition, providing strategic direction to the organization and critical support to all of our programs.



Joel King

President
Joel is a founding member of Napa Bike. He commuted by bike to his job as a biologist for the Napa County Agriculture Department for over 30 years. His bike is his main form of transportation around Napa, and he also enjoys riding around the vineyards and up in the hills of Napa County looking for wildflowers and waterfalls. He is a member of the City of Napa Bicycle and Trails Advisory Commission and NVTA Active Transportation Committee. He is a league certified cycling instructor and helps lead cycling classes in our community, including our Family Biking Workshops.

Felix Riesenberg

Vice President
Felix grew up in the North Bay and has been riding bikes regularly since high school. He was introduced to training and racing at UC Davis in the mid 1980's (where he studied civil engineering) which has led to a life-long enjoyment of cycling. The mechanical simplicity of the bicycle and the freedom it provides attracted him to cycling and the health benefits and just plain fun keep him riding. Felix wants to contribute to Napa's cycling community by increasing cyclist safety on local roads and encouraging more people to get out on their bikes more often; because bikes are awesome! He has previously been an active member of the Reno Wheelman and the Davis Bike Club and is currently a member of the Eagle Cycling Club.




Guy Vaillancourt

Treasurer
Born in Canada, Guy grew up in Maine and after living in the 4 continental corners of the United States, ended up in Napa and wonders why it took him over 50 years to find the best place in the country. He has been an avid cyclist for over 40 years and for the last 5 years has put more miles on his bike than on his truck. His working career has been in mechanical engineering and corporate and real estate finance. In retirement he wants his participation on the NCBC Board to help lead to safer riding conditions in Napa.

Emily Cocks

Director
Emily grew up in Michigan and spent all her time in the pool as a competitive swimmer, concluding her career by swimming for the University of Michigan. After graduating she moved to Chicago and began working as a paralegal. She found triathlon in 2004, gradually improved and began to race as a professional triathlete in 2010. She and her husband Andrew were tired of the midwest winters so they decided to move out to Napa to enjoy better weather for year around outdoor activities. Emily continued had some stellar results as a triathlete including a 4th place at the iconic Escape from Alcatraz Triathlon, 4th at Vineman 70.3, 3rd at Wildflower, 5th at the Long Distance World Championships and finished her first Ironman in 9:25. She has ridden thousands of miles in Napa County and wants to make sure everyone can enjoy the roads just as she has for the last seven years.



Jim Fitch

Director
Jim grew up in Napa County and has lived here for all but about 10 years of his life. After graduating from UCD Law School, he was in private practice for five years before finding a home with the Solano County Public Defender's office, where, for a time, he was the acting Public Defender. Jim rode his bike to school from the first grade on, and has been an avid cyclist ever since. Jim has raced, commuted, and toured. Jim is a member of the Eagle Cycling Club, and has served on its board of directors.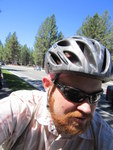 Andre Garcia
Director
Andre is a Napa native and an active cyclist since the first grade. He is committed to getting more people interested in riding bikes for exercise and daily transportation. He has been a professional bicycle mechanic for over a decade, as he continues his education to become a teacher. Andre is excited about what the future holds for cycling in Napa County and works tirelessly to help Napa County residents realize how bicycle friendly Napa County is today. He is dedicated to improving the cycling environment to what is should be: safe for anyone from 8 to 80. Andre is a member of the Eagle Cycling Club, and has directed the Cherry Pie Criterium. He is also the founder and curator of Karma Kits.
Ken Prosser
Director
Ken has over 20 years of experience in the graphic design industry, and has been riding road and mountain bikes for even longer.  He joined the Board in December 2016, and brings a diverse set of skills to the table.  In his professional career, Ken has worked as an Art Director and Project Manager for a global design agency, and high-end bicycle equipment manufacturer.

Rick Stuart
Director
"Big Rick" joined the Board of the Napa County Bicycle Coalition in February of 2017.  You probably know his voice from his decades of work as an on-air radio DJ, including work at The Quake in the 80's, Live 105, KFOG, and ultimately as daytime DJ for Napa's own KVYN.  Growing up in the East Bay, Rick remembers his dad taking him up to Calistoga to watch the Sprint Car races at the Calistoga fairgrounds.  When not in the DJ booth, you'll probably see him out riding our quiet rural roads, perhaps leading a group for Napa Valley Bike Tours.

Tom Sundsboe
Director
Tom and his wife moved back to the Bay Area to pursue an active retirement lifestyle several years ago. Napa has become their home after living and working 30 years in Seattle, where they were members and supporters of the Cascade Bicycle organization. Tom relocated to Napa after frequent visits experiencing the wonderful weather and plentiful cycling opportunities.  Tom is passionate about supporting safe bicycling for all members of the cycling community. He believes that road and mountain bikers have the ability to become goodwill ambassadors through their positive interactions with users that share the same roads/trails.  His desire is to gain wider support for the NCBC and their various initiatives to support safe cycling.
---
Are you interested in joining our board?
We're always looking for folks who are excited about riding bikes, passionate about making our community safer for folks out on two wheels, and who love giving back to their local community.  If that sounds like you, send us an email to info@napabike.org, and we'll take it from there!