Bike Advocacy
Napa Bike is working for your ride . . . with Ongoing Campaigns for the long-term improvements that will enable Napa County to have 20% of all trips be people-powered by 2035.
We also focus attention on a limited number of Primary Campaigns; safety and other concerns that are urgent or more immediate in nature. Our goal is to put the light of public attention on an issue and get it resolved through our elected representatives and staff charged with serving the community.
We act in your behalf in the public forum. We find out about, and then track, issues affecting cyclists by attending meetings where decisions are made. We regularly attend and speak up for you at City Council and Board of Supervisors meetings, and dozens of other entities at the local, regional, and statewide level.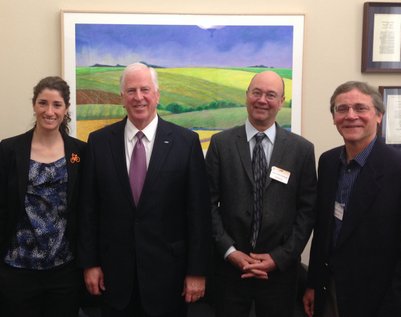 In 2014, we organized a trip to Davis for almost all of Napa County's elected officials (one of 4 Platinum-Level Bicycle Friendly Cities). Congressman Mike Thompson, State Senator Lois Wolk, Assembly Member Mariko Yamada were joined by 4 mayors, 3 supervisors, many council members, representatives of the hospitality and health sectors on fact-finding tour of Davis' bike infrastructure.
The immediate result is that Napa County now has an Active Transportation coordinator, dedicated to accelerating improvements which make walking and biking a safe transportation alternative for visitors and residents. More results are in the works.
Think of Napa Bike as your cycling lobbyist . . . working for your ride.
Primary Campaigns
Whitehall Lane/Highway 29 Bike Lane Rail Crossing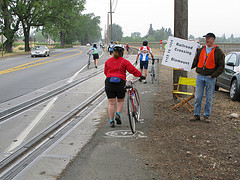 The intersection of Whitehall Lane and Highway 29, where train tracks cross the highway, has more than twice as many reported bicycle accidents than any other location in Napa County. It has earned this dubious distinction even though it is in a rural setting and even though the parallel Silverado Trail is the primary North/South route through Napa Valley for cyclists.
Because the angle of the tracks at that point approximates the angle of the adjacent bicycle path, bicyclists frequently get their wheels stuck in gaps between the road surface and the tracks. Many people have been injured; we are thankful that no one has been killed so far.
RESULTS: Project in Process!
We are happy to report the solution is in the works! Thanks to the outpouring of public attention generated by Napa Bike's petition in 2010 and 2011, and the incredible effort of Supervisor Diane Dillon, the decades-old Caltrans project actually started this fall!
The first step is 'under-grounding' of the utilities between Mee Lane and Charter Oak Lane, which will take about 9 months. Supervisor Dillon has asked Caltrans to address the realignment of the bike lanes so that they are perpendicular to the track as one of the first tasks in the overall project, after the requisite under-grounding is complete. During this phase of construction, Caltrans is using additional Share-the-Road signage, but we suggest taking alternate routes when going up or down valley on your bike.
Rail Crossing Improvements in Napa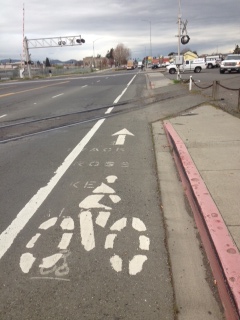 Bicycle riders in Napa are confronted with several hazardous rail crossings. Problem crossings include:
Soscol at 6th St.
Soscol between Clinton St. and Napa St.
Lincoln Avenue, east of Iroquois St.
Yajome St., south of Paul Ave.
Main St. at Central Ave.
Jefferson St., north of Menlo Ave.
Pueblo Ave., east of Stadium Ave.
California Blvd., south of Industrial Way
Part of the problem is the angle of the tracks at these points, which is acute to the angle of the adjacent roadway or bicycle path. Ideally, the bike lane should be perpendicular to the track. In other spots, the asphalt next to the tracks has distorted and adds to the hazard of the track angle. Consequently, bicyclists often get their wheels stuck in gaps between the road surface and the tracks. Many people have been injured; we are thankful that no one has been killed so far. This problem has been brought to the attention of the City of Napa and the Napa Valley Wine Train. While each entity has expressed its concern and is aware of the problem, and reasonable technical solutions exist, there is no plan in place to make these crossings safe for cyclists.
We are circulating a petition to demonstrate that there is widespread community support for implementing corrective measures at every rail crossing in Napa. Our objective is a call to action of our elected representatives, asking them to request that the City of Napa and the owners of the Napa Valley Wine Train begin work on resolving this problem without further delay. If you would like to sign the petition, or circulate one among your friends and neighbors, you can download a copy here. Please return signed petitions to 3379 Solano Avenue | #1700 | Napa, CA 94558
Ongoing Campaigns
Building Bicycle Friendly Communities

The League of American Bicyclists provides an objective method for measuring a community's progress toward making people-powered transportation a safe alternative for getting from any Point A to any Point B.They also provide incentives, hands-on assistance, and award recognition to further this goal. Napa Bike actively encourages all jurisdictions in Napa County to adopt LAB standards of safe accommodation for cycling for transportation and recreation.
Calistoga applied for Bicycle Friendly Community (BFC) recognition in 2009 and qualified for a Bronze Level designation through 2013. In 2012, the City of Napa qualified as a Bicycle Friendly Community, also at the Bronze level.
You can download a pdf of the BFC brochure to see if your town is ready to apply. Napa Bike is glad to assist local bicycle advisory and active transportation committees with understanding the standards and developing an action plan to qualify for, or improve on, BFC recognition.
Safer Riding = Less Traffic  = More Livable Communities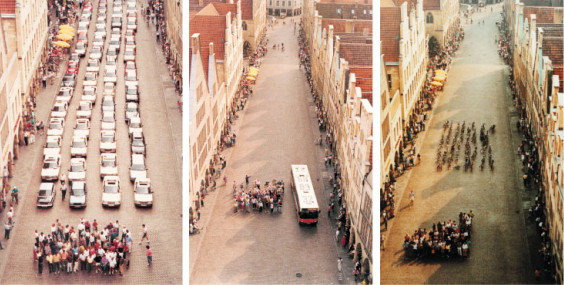 Street at Capacity               Same # of People on Bus        Same # of People on Bikes

Opinion polls on Napa County show that the number one public concern is vehicle traffic congestion.   A picture is worth a thousand words . . . the photo above was taken about 12 years ago in the town of Muenster in Germany to help people understand how public mass transit and individual transit by bicycle reduces traffic congestion. Visit any major German city today and you will see extensive recent investments in cycling infrastructure creating huge shifts in people riding bikes, instead of driving in the inner city.
We can do the same here. 40 percent of all car trips in our cities are of 2 miles or less. Imagine the reduction in traffic when people living in our towns, from Calistoga to American Canyon, decide to take their bike on these short trips. Clearly, public investments in safe riding will pay huge dividends for Napa County. Less traffic, healthier kids, and a simple way to achieve lower levels of green house gas emissions (as mandated by the State) are the obvious ways Napa County will benefit by embracing cycling as the preferred transportation mode for short trips.
Napa Bike has a public outreach campaign planned to get the facts about the community benefits of safe cycling into the conventional wisdom.  We are working on sponsorship or grants to fund this. Ideas and donations are welcome.
Safe Routes to School
Safe Routes to School is a federally funded bicycle safety program that is alive and well in Napa County. The goal of the program is to get more children walking and biking to school safely. The program includes education, incentives, engineering and partnerships with parents, city governments, schools and law enforcement. Currently, the main emphasis is classroom education that teaches children traffic safety skills. Contests and events encourage students and their parents to shift their travel behavior through fun community activities.
Safe Routes to School is working in schools across the county as a means of reducing traffic congestion, increasing physical activity and encouraging community involvement in solving complex problems. Napa Bike assisted the Napa County Office of Education (NCOE) in securing its grant which enabled the program to start in 2010.  Since then, Napa Bike is helping NCOE's Safe Routes staff partner with schools in jurisdictions throughout the County, facilitating agreements with school staff to run the program in more locations.
You can learn more about this program in a presentation by the National Center for Safe Routes to School, or by visiting the Napa County Office of Education's Safe Routes to School Facebook page here.
BE BRIGHT! Improving Cyclist and Motorist Mutual Awareness and Respect
Some day it won't be necessary to even talk about this.  But now, in Napa County, it is important to educate motorists, bicyclists, and pedestrians on this concept:

Same Road – Same Rights – Same Responsibilities.
Napa Bike periodically offers seminars called "Conspicuity for Survival" lead by Jack Holmgren, a member of Napa Bike and the San Francisco Randonneurs long distance bicycle-riding club. Look for announcements of these events on our website and on our Facebook page.
This initiative complements our work to improve or add bike lanes (including more signage about sharing the roads – bike lane or not). By educating cyclists how to ride smart, be visible and predictable to motorists, more people ride and more drivers expect to see cyclists on the roads, which make riding all the safer. It's a positive cycle proven to work in cities around the world.
Be Bright is a message for both cyclists and motorists. Napa Bike is seeking sponsorship for extending the reach of the Napa County BE BRIGHT program through billboards, and direct mail to residents.
Ideas and donations are most welcome.
Complete Streets
Caltrans has officially adopted a Complete Streets policy.  According to Deputy Directive 64 of October 2008: "The Department views all transportation improvements as opportunities to improve safety, access, and mobility for all travelers in California and recognizes bicycle, pedestrian, and transit modes as integral elements of the transportation system."
Why then are roads and highways being built that seem to focus only on the needs of motorists? Frankly, it takes time for changes in policy to be translated into implementation. Currently the status is that the all city and county jurisdictions must adopt a resolution incorporating the Complete Streets policy by January 31, 2013 in order to qualify for the next round of One Bay Area Grants for 2014. Once Complete Streets is part of the design process in all of our communities, we can expect to see more regard to the needs of people who want to use the streets for walking and bicycling.
If you want more information about the urgency of implementing a Complete Streets policy, check out "Dangerous by Design" which reports on the epidemic of pedestrian deaths and injuries. It was just released in June 2011 by Transportation for America, a diverse coalition of organizations (ranging from the Rails to Trails Conservancy to the National Association of Realtors) all of whom believe in the value of people powered transportation.
Accomplishments and Activities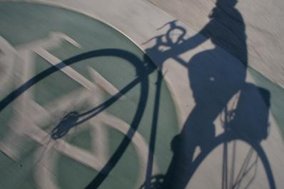 Napa Bike works every day to make riding safer in Napa County.  Here are highlights of some of the projects we've been involved with:
 Sponsored a successful campaign to 'Fix Whitehall Lane' that got the attention of elected officials and resulted in the start of the Caltrans project that will stop the horrible bike crashes at Whitehall Lane – after 28 years of planning.
 Launched the BE BRIGHT program, an educational initiative that provides strategies for cyclists to be safer on the roads as they are now, and will include a motorist outreach program designed to improve how we share the road with mutual respect.
 Successfully advocated for installation of 'Sharrows' on streets in Napa that were repaved only in the vehicle lane.
 Successfully advocated for extension of the width of lineal pothole repairs to include pavement used by cyclists.
 Supported Napa's Bicycle & Trails Advisory Commission in its successful advocacy efforts to create Class II lanes on Lincoln Blvd all the way across town, complete bike lanes on Trower, and complete Class II lanes on California Blvd.
 Advocated successfully for a feasibility study of bicycle and pedestrian underpass of Hwy 29 near First Street.
 Provided guidance on the NCTPA steering committee for completion and ratification of the County-wide bicycle plan, enabling Napa County to qualify for federal and state funds for bicycling infrastructure improvements. As part of this project, individual bicycle plans were also completed and approved in all but 1 of the 5 towns in Napa Valley, enabling them to qualify for bike project funding.
 Negotiated installation of numerous cyclist awareness signs of rural roads throughout the County.
 Provided input to County Public Works to have part of Silverado Trail re-stripped where it was too narrow.
 Provided input to County Public Works on sites for installation of additional bike route signs in the County jurisdiction near Calistoga, providing visual cues extending Calistoga's scenic bike routes.
 Arranged for technical grant writing support for the City of Calistoga to apply for funding to advance its extension of the Washington Street Class I bike path to Lincoln Avenue.

Served on the board and supported the Napa Valley Vine Trail with financial contributions and joint participation in several community events.
 Provided guidance for the design and development work on a new bicycle map that identifies bicycle routes in all 5 towns and the County.
 Participated in advocacy seminars at the Leadership Conference conducted by the Alliance for Biking and Walking.
 Conducted Kidical Mass rides in Napa and American Canyon, demonstrating to parents and their children how to have fun on bikes while riding safely in our communities.
 Emailed dozens of alerts to membership on legislative issue affecting cyclists.
 Provided bike parking at numerous community events and several charity bike rides.
 Followed up on tragic bicycle accidents with law enforcement.
 Represented Napa County at the National Bike Summit; lobbied elected officials to continue bike funding in the Surface Transportation Bill.
 Organized and manned Bike to Work Day 'refresher stations' and other National Bike Month activities
 Planned and conducted the annual Napa Bike Fest at the Oxbow in Napa, which brings together more than 1000 people every year from all elements of the cycling community.
 Conducted educational Ride-With-The-Board rides each quarter of the year.
 Conducted the Legendary Tour as our primary fund raiser.  In partnership with prominent members of the wine and hospitality industries, the event featured cycling icons, helping Napa Bike to be financially self-sustaining.
Achieved a 50% increase in Napa Bike membership.
Doubled subscribers to Napa Bike's Facebook page.
Get Involved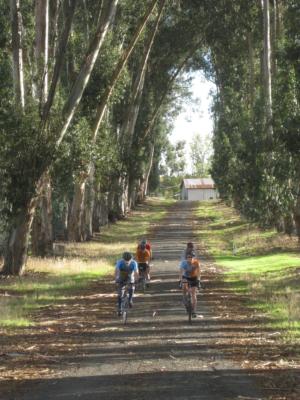 There are lots of ways to get involved.
The first step is to be a member.  When it comes to effectiveness of advocacy organizations, size really matters.  We won't be taken as seriously as we need to be until we have a significant membership.  For example, San Francisco Bicycle Coalition has 11,000 + members and is really getting things done.  To be a similarly-sized political force in Napa County, we need to have about 1,900 members. We're short of that by about 1,800.  Become a member online in about two minutes using your credit card here.
If you can share some time, we can definitely can use your help.  Check out our Volunteer page for details. There's an easy-to-use submission form here that will get your contact information and interests to us.
If you don't have a lot of time, you can make a donation that will help us sustain our daily activities that lead to achieving our long term.  You can donate online by clicking any of the donate buttons that are on every page.