Bike to Work Day 2017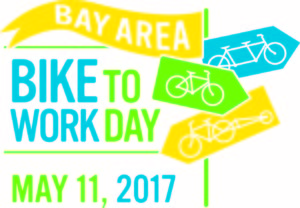 Join us on Thursday, May 11th for Napa Couny's Bike to Work Day!
Since 1956, May has been recognized across the United States as National Bike Month, with community sponsored celebrations as a means toward making our cities and towns more bike friendly for everyone. In the Bay Area, we have been celebrating Bike to Work Day as the "main event" of Bike Month for 23 years, encouraging residents to leave their cars at home and commute to work, school, or to the local coffee shop on two wheels. Napa County's Bike to Work Day is produced by the Napa County Bicycle Coalition, whose mission is to make riding a bike anywhere in Napa County safe, convenient, and accessible for riders of all ages and abilities.
---
Energizer Station Locations
We're continuing to add locations to this list, so be sure to check back for details about location hours and Energizer Staion host information.
City of Napa
– Napa Valley College, Magnolia Drive Roundabout
– Napa Valley Velo, Hartle Court @ Napa Valley Vine Trail
– County Admin Building, 3rd Street @ Coombs
– City of Napa, Community Services Building, 1st Street @ Seminary
– Oxbow Marketplace, 3rd Street, main parking lot.
– Commuter Bike Path South, Vallejo Street @ Soscol
– Napa Valley Unified School District, Jefferson @ Lincoln, next to Napa High
– Bicycle Works, Redwood Road @ Solano Ave
City of St. Helena
– Clif Family Winery & Velo Vino, Vidovich Ln @ Highway 29
– St. Helena Public Works, Location TBD
City of Calistoga
– Calistoga Junior-Senior High, Grant Street @ Lake Street
– Calistoga Elementary School, Cedar Street @ Berry Street
– Calistoga Police Department, Washington Street
---
Sign up to Win!
We've lined up some awesome prizes for folks who sign up in advance to ride on Bike to Work Day.  Just fill out the form below (Napa County residents only, please) to be entered in to our weekly prize drawings, now through Thursday, May 11th.
---
Thank you to our Sponsors
Napa County's Bike to Work Day wouldn't be possible without the support of our generous sponsors.  Thank you!
Thank you!