Lock it Up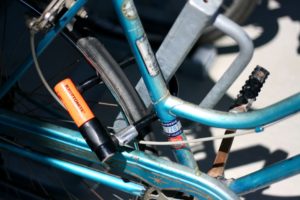 Bike thefts are on the rise across Napa. Â And all too often, once a bike is gone, it's gone for good.
But a few simple steps can help make sure your bike stays right where you left it, and help get your bike back if you're unfortunate enough to be a victim of bike theft.  We've pulled together the following resources based on our own experience, as well as recommendations from local bike shops, law enforcement, and lock manufacturers.
Bike Security Tips:
1)  Always use a high quality U-style or chain lock.  While cable locks are light weight and convenient, they simply don't provide the same level of theft prevention as U-style locks or chains.
2) Â Lock to a secure, fixed object. Â Bicycle racks, light posts, or in a pinch even a mature tree, are good options. Â Ensure that your bike can't simply be lifted off or over the object you're locking it to.
3) Â Lock your bike in a well-lit area with high foot traffic. Â More eyes on your bike makes it less likely that a thief will risk being caught tampering with your bike lock.
4) Â Lock according to value; frame first. Â Wrapping a lock around a front wheel – or even a seat post – is an invitation to thieves to nab your bike. Â Make sure the lock secures the frame first.
Bike Registration & Recovery:
Most of us have stories of bikes being stolen over the years – from the back yard or garage, from a rack on our car, or because we were too lazy or in a rush and left our bike outside "just for a second." Â By taking a few minutes to register your bike before you ride, you can save yourself untold headaches and heartache down the road.
1) Â Take a photo of your bike. Â Having a current photo of your bike to provide to law enforcement and your homeowners or renters insurance is critical.
2)  Register your bike on BikeIndex today – it's FREE.  Registering your bike with the serial number, photo (see above) and brief description on BikeIndex gives you and law enforcement a quick and easy way to search for stolen bikes.
3) Â If your bike is stolen, file a police report. Â The City of Napa Police Department recently had over 90 recovered bikes just sitting in storage, unable to return them to their owners because the theft was never reported, or owners didn't have enough information about the bike to identify it.
4) Â If your bike is stolen, share it on social media. Â Sharing a photo and details about your bike theft on social media allow the rest of the bicycle community to keep an eye out for your ride. Â We also encourage you to post on the Sonoma County Bike Watch Facebook page – bike thieves will often try to sell bikes outside the community where they are stolen.