New Rules for Cycling Events
Hearing Scheduled for
Cycling Event Rule Changes


Last year, County officials adopted a new set of rules for special events like the Tour of Napa Valley, Cycle for Sight, and the Napa Valley Marathon. While banning relay-type events upvalley, the County also set limits on the number of events per month, limited road closures, and banned events on specific dates, including the Safeway PGA Tour, NASCAR, and Auction weekends.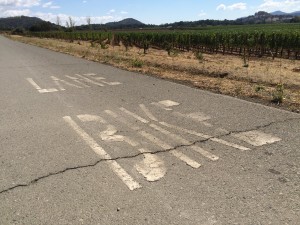 On March 7th, the Board of Supervisors will hear an update from County Public Works staff on how last year's changes have been received, and recommendations for new rules for cycling events.
Click here for a copy of our Comment letter to the Board of Supervisors.
Our main concern: a proposed "complaint process" would put events that receive just one valid complaint on probation for a year.  A second valid complaint while on probation would ban events for 5 years.
One year after the County adopted a new set of rules to govern road events like the Tour of Napa Valley and Cycle for Sight, not a single valid complaint has been submitted by members of the public.  So why is the County proposing even more punitive rules to limit events?
---
What can you do?
It's important for our elected officials to hear from event participants, organizers, and volunteers.  Share your stories about how these events are good stewards of our environment, respectful of our agricultural roots, provide opportunities for both locals and visitors to live a healthy lifestyle, and give back to local charities working to address our community's most pressing problems.
Letters, emails or phone calls can be addressed to the Board of Supervisors.
Hon. Alfredo Pedroza
Chair, Napa County Board of Supervisors
1195 Third Street, Suite 310
Phone: (916) 928-2108
Email: alfredo.pedroza@countyofnapa.org
You should also reach out to the Supervisor for your district (map here).  You can call the Board at (707) 253-4386.
District 1: Brad Wagenknecht – brad.wagenknecht@countyofnapa.org
District 2: Ryan Gregory – ryan.gregory@countyofnapa.org
District 3: Diane Dillon – diane.dillon@countyofnapa.org
District 4: Alfredo Pedroza – alfredo.pedroza@countyofnapa.org
District 5: Belia Ramos – belia.ramos@countyofnapa.org
If you would like to attend the meeting on Tuesday, March 7th, the Special Events item is scheduled for 9:30am.  A full agenda packet will be posted here at least 72 hours before the meeting.