Supervisors Adopt Rules for Events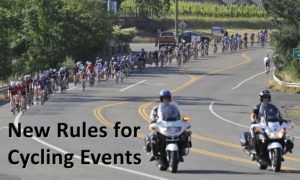 On Tuesday, the Napa County Board of Supervisors heard an update on change made last year to the county's Special Events Ordinance.  The rules govern permit requirements for event of 50 or more people on county-owned roads, although many events are also required to get a permit from Caltrans, local jurisdictions, and contract with agencies like CHP or ambulance providers as well.
Last year's changes included limits on the number of events per month and a ban on relay-type events up valley, among several other more administrative changes.  The Napa Valley Register wrote a good summary of those changes (here).  Following these rule changes, not a single valid complaint was filed against any running or cycling event in 2016.
Nevertheless, as part of Tuesday's report, staff recommended what Supervisor Brad Wagenknecht termed a "draconian" proposal to ban events for 5 years if they receive a single complaint in two consecutive years.  In our comment letter to the Board (which you can read here), we suggested that instead of adopting harsh new rules, the County should take a more collaborative approach if and when issues arise.
Although not on the agenda for discussion, Calistoga Mayor (and Chamber exec) Chris Canning made a compelling case for revising last year's ban on up-valley relay events.  He noted that both Ragnar and the more low-key Golden Gate relay bring significant business to his community in the form of hotel stays, and increased restaurant and retail sales.  It remains to be seen if Supervisors would be open to revising the ban to allow these events to come back under a more limited scope.
Ultimately, the Board decided to adopt a "three strikes" policy for events that violate the terms of their permit, which while not perfect provides enough flexibility to allow events to address any issues. What remains unclear is exactly what types of complaints will count as a strike – due to the way permit language is written, it is nearly impossible to conduct an event without some technical violation.  Our hope is that the County and other agencies will continue to approach this in an open, transparent, and collaborative process that takes in to account the details of each case.
The Board also provide direction to staff to eliminate a long-standing permit exemption for cycling events that adhere to the California Vehicle Code. Although infrequently used, this exemption had provided smaller events that don't require traffic controls a more streamlined process.
All told, Supervisors took action on six elements of the Special Events process:
1 – Date Reservation Timing – permit application window opens the first week of each month for events proposed for that month one year hence. First-come basis for any later applications.
2 – Application Deposit – Require deposits 90 days out (along with full permit application) rather than 6-months out.
3 – Fee Waivers – Allow events to receive a permit fee waiver if they commit to giving 25% of net proceeds to a Napa County-based 501(c)3 and 501(c)4 nonprofit.
4 – Blackout Dates –  Direct staff to allow events on previously "blacked-out" dates, including Bottlerock, Auction, or NASCAR weekend, so long as public safety needs are met.
5 – Complaint Process – Adopt a "three strikes" approach to complaints, with final result being a one-year time-out if violation are not resolved.
6 – Ordinance Exemptions – Eliminate a long-standing exemption to cycling events that follow rules of the road.  All events must go through the full permit process.
Got questions about the changes, or how this might impact your favorite local cycling or running event?  Send us an email to info@napabike.org, or leave a comment on our Facebook page.