We're excited to be partnering with the City of Napa Parks & Recreation Department to host a family-friendly ride on Bike Your Park Day, coming up this September 30th.
The ride will depart from the old Cinedome parking lot on Pearl Street in downtown Napa at 8am for a leisurely 7 mile ride along the Napa River to Kennedy Park. Along the way, pause and enjoy the beautiful Napa River, and hear updates on the Napa Valley Vine Trail and fall activities organized by the City of Napa Parks & Recreation Department.
The ride will be co-led by Parks & Recreation Director John Coates, and Patrick Band from the Napa County Bicycle Coalition.  Riders will enjoy a few refreshments at Kennedy Park, before turning around and heading back to downtown along the same route.No reservations are required; this event is open to all.
Check out more details about Bike your Park Day in the Napa Register's article, written by Rachel Mellick, Recreation Manager for the City of Calistoga Parks & Recreation Department.
Thanks Rachel!!
---
"Bike Your Park Day"
Byline: Rachel Mellick
September 21, 2017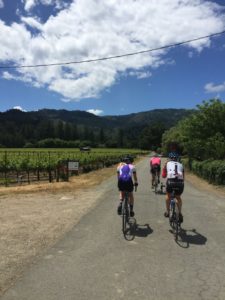 Early fall last year I took a solo camping trip to Yosemite National Park. The reason for my trip was to see the park but to also bike over Tioga Pass. It had been on my radar since a climber friend had told me about it a couple years ago. I had been bummed out about a recent break-up, so it seemed the perfect time to get out in nature and enjoy the wilderness in our national parks. It did not disappoint. The trip over Tioga was absolutely breathtaking, from sweeping granite peaks, high alpine meadows, to the little post office in Tuolumne stocked with packages for backpackers hiking thousands of miles. The trip was exactly what I needed. In fact, I find that most times I am on my bike in nature it calms and soothes my soul.
Now, although Yosemite is a fabulous place to bike and recharge in nature, you don't have to go quite that far to have this same experience. In fact, biking in many of the parks we have right here in the Napa Valley would suffice. If you're looking for an opportunity to do so, look no further! Next Saturday, Sept. 30, the Napa County Bicycle Coalition along with our neighbors down valley at Napa Parks and Recreation will be co-hosting a "Bike your Park" event in the City of Napa. This family friendly event will gather at 7:30 a.m. at the old Cinedome parking lot and roll at 8 a.m. for a 6-mile ride along the Napa Vine Trail to Kennedy Park. The pace will be family friendly and incorporate stops to hear about updates to the Vine Trail, which will eventually connect to Calistoga. Additionally there will be refreshments available at Kennedy Park before making the return trip. This is a great way to get outside with the family and enjoy some of the bike friendly routes this county has to offer.
The event is free and open to everyone with no registration necessary. However, if you wish to register with Adventure Cycling Association, who is sponsoring the event on a national level, you can do so and be entered to win a trip to Glacier National Park with two bikes and transportation on the Amtrak Empire Builder. Entries are accepted until Sept. 24 on www.adventurecycling.org. You better believe I will be entering and biking a park that day. If it means a chance to win a trip to the promise land, sign me up! Hope to see you in your favorite park on your bike on Sept. 30. Feel free to give me a call at the Recreation Services Office with any questions at 942-2838.
Click here to read the article in the Weekly Calistogan, a sister publication of the Napa Valley Register.