Skyline Park Fundraiser Tee
Just $25, with proceeds going to trail restoration and High School MTB teams!!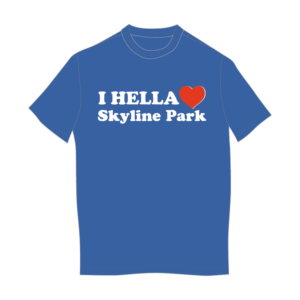 Many of our local parks and open spaces were significantly damaged by the October fires. And repair work will take many months – if not longer.
In honor of the now-defunct mountain bike race that the Eagle Cycling Club used to host in Skyline Park, we've created these limited edition tee-shirts as a fundrasier to help with trail restoration at our local parks, and to support our two high school MTB teams – Napa Valley Composite and St. Helena Thunderbirds – as they gear up for another season of riding. All proceeds will go directly to trail restoration efforts and our local high school MTB teams.
Pre-order your shirt now so you don't get left out.  We're doing a very limited run, and shirts will only be available for order between now and October 31st.
---