Napa County Bicycle Coalition Recommends
Vote Yes on Measure Z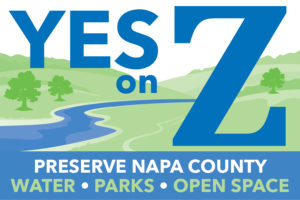 The Napa Couty Bicycle Coalition is proud to endorse Measure Z, a quarter-cent sales tax to significantly expand and improve Napa County's parks and open spaces, while preserving water quality and protecting Napa's agricultural heritage.  Measure Z will protect over 30,000 acres of hillsides, watersheds, creeks, and open spaces right here in Napa County.
What does this mean for us?
Measure Z isn't just about protecting our open spaces – it's about making those open spaces accessible for residents and visitors to enjoy.  We're confident that if Measure Z passes, we'll see miles and miles of new trails for mountain bikes, hikers, runners, and other trail users.  We're also excited that nearly $250,000 annually will be set aside for youth outdoor education.  Our vision is that this funding will allow thousands of kids and grandkids to experience the incredible beauty and joy of spending time outside on a bike.
Please join us, as well as Congressman Mike Thompson, all five members of the Napa County Board of Supervisors, the Land Trust of Napa County, and dozens of community groups, neighborhood leaders, and elected officials in voting YES on Measure Z, on November 8th or in your absentee ballot.  For more information, visit YesOnNapaMeasureZ.com
---
Who We Are

The Napa County Bicycle Coalition is a local nonprofit advocacy organization working to make riding a bike in Napa County safe, convenient, and accessible for riders of all ages and abilities.
Our outreach and education programs reach thousands of local residents each year, provide essential bike safety education to low-income youth, and raising awareness of how easy (and fun) it is to ride a bike for recreation and transportation. Through our grassroots advocacy and policy programs, we are making our local communities more bike friendly and expanding bike infrastructure.  And our community events – Napa BikeFest, Carneros Family Ride, and Kidical Mass – bring our community together and help celebrate the joys of riding regardless of age or ability.