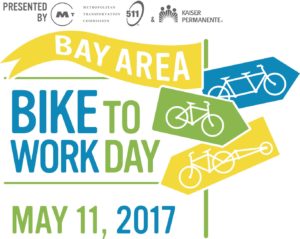 Save the Date
Thursday, May 11th
Click here to go straight to the Bike to Work Day page.
---
What is Bike to Work Day?
Join tens of thousands of other Bay Area residents in leaving the car at home and riding your bike to the office, school, or just down to the local coffee shop.
Bike to Work Day is a showcase for the many benefits of riding a bike, including reduced air pollution, improved physical and mental health, and an opportunity to see your neighborhood from a whole different perspective, on two wheels.  It's also just a whole heck of a lot of fun.
Roughly one in seven Bay Area residents live within five miles of their workplace, an ideal distance for bicycling.  But in Napa County and across the region, only a small fraction – less than 1% – ride their bikes to work on a regular basis.  That means more cars on the road, more CO2 emissions, and increased need for tax dollars to build and maintain roads.
Bike to Work Day is a vision of what the morning commute should look like: office workers, students, business owners, and elected officials all doing the unimaginable – enjoying their trips to work and school.
Interested in taking part?
Click here for the Bike to Work Day 2017 event page. You can also check out our Facebook event page.