6th Annual BikeFest
Napa Oxbow Commons
Saturday, May 6th  10am – 2pm
---
Join us at BikeFest – a free, community celebration of all things bicycles, featuring bike rides for all ages, safety and skills workshops, bike industry demos, activities, bike swap, and much more!
BikeFest coincides with National Bike Month, and precedes Bike to Work Day (May 11th, 2017). It's our chance to showcase the many benefits of riding a bike, and to encourage everyone in Napa County to experience the joy of riding.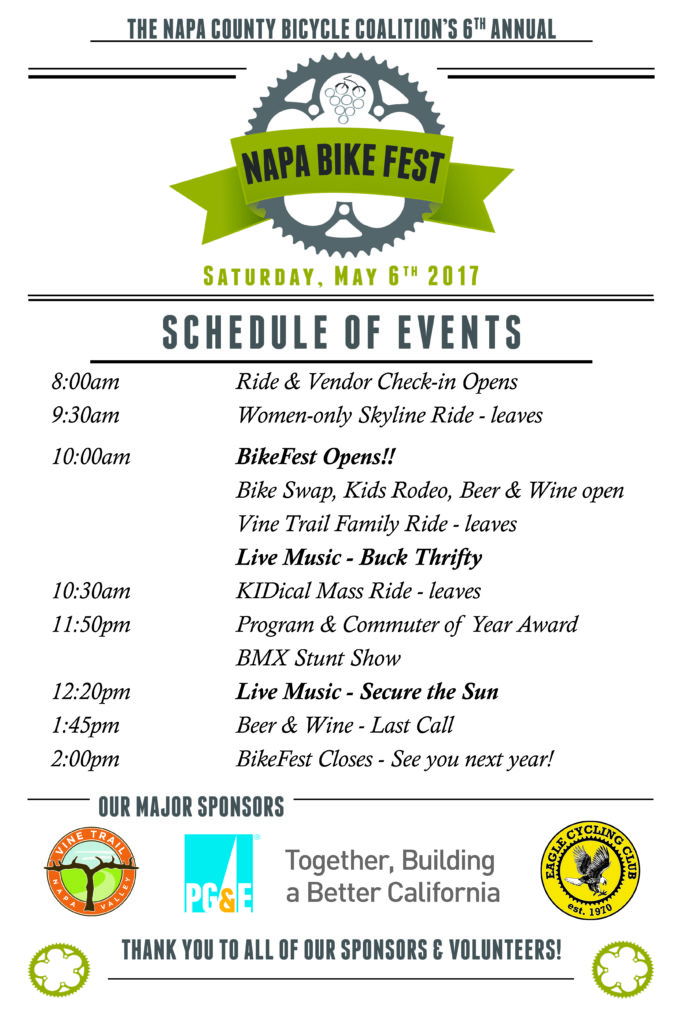 ---
Rides:
BikeFest is all about bikes – and what would a bike festival be without riding?  We hope you'll consider joining us on one of our rides.  All of our rides are free, and we encourage you to sign up early because they will fill up fast.  Note: additional rides will be added as we get closer to the event date.
— Skyline Park Women-only MTB Ride – We're stoked to be offering a women-only mountain bike ride in Skyline park this year. This is a free, no-drop ride. We'll leave from the BikeFest venue (Downtown Napa's Oxbow Commons) at 9:30am and head to the park via the Napa River Trail. Expect a decent amount of climbing – roughly 2,200′ over 10 miles – and a mix of technical riding, fire roads, and single track.
Click here to sign up for the Skyline Park Women-only MTB Ride.
— Kidical Mass Ride – Without a doubt, the best ride at BikeFest.  Our Kidical Mass ride is appropriate for kids ages 3-12, with a one-mile and three-mile option depending on age and skill level.  Among our course marshals for the ride will be the Napa Police Department's bike patrol, working to keep everyone safe, visible, and following the rules of the road. This ride will leave BikeFest at 10:30, and should take between 30 and 90 minutes, depending on the distance you choose to ride.
Click here to register for the Kidical Mass Ride.
— Vine Trail Family Ride – This year will be our first ever Vine Trail ride, along the Napa River Trail and through Kennedy Park.  A casual ride appropriate for all ages, this 7.5 mile out-and-back ride is mostly flat, and primarily along the Class 1 bike path. While at Kennedy Park, riders will receive a brief overview of the Vine Trail project, including updates on programs, events, and future construction along the 47-mile long route.
Click here to register for the Vine Trail Family Ride.
---
Vendors:
Interested in joining us as a vendor for BikeFest?  Please complete the Vendor Application and return by May 1st. Once we receive your application, we will confirm your spot via email, and send you a complete vendor packet with all the details about setup times, booth fee payment options, etc.
Volunteer:
BikeFest wouldn't be possible without an incredible group of volunteers and community supporters. Click here to sign up – jobs include pouring beer, parking bikes, and serving as a safety marshal for our Kidical Mass ride.